Noomi Knitting Pattern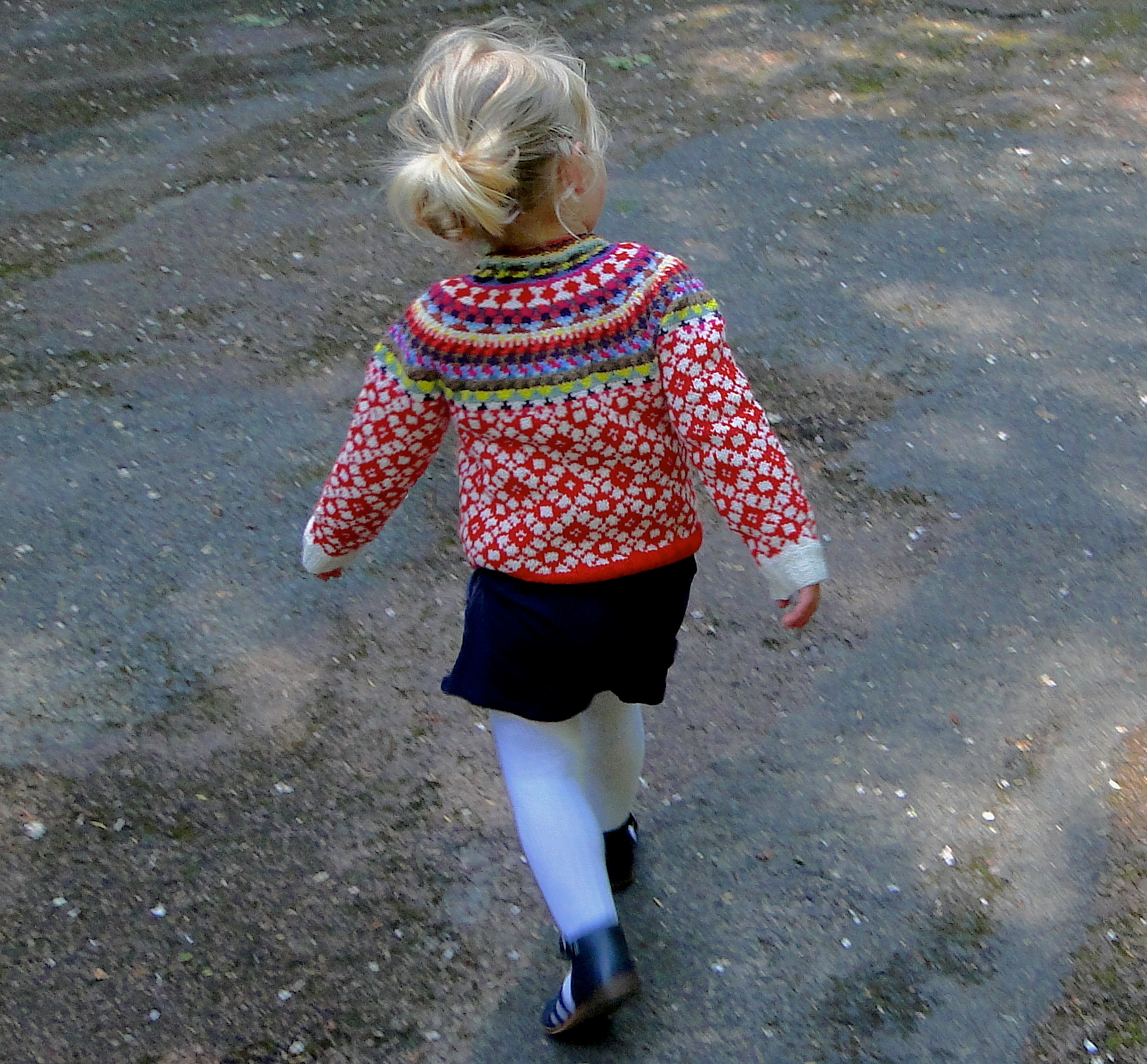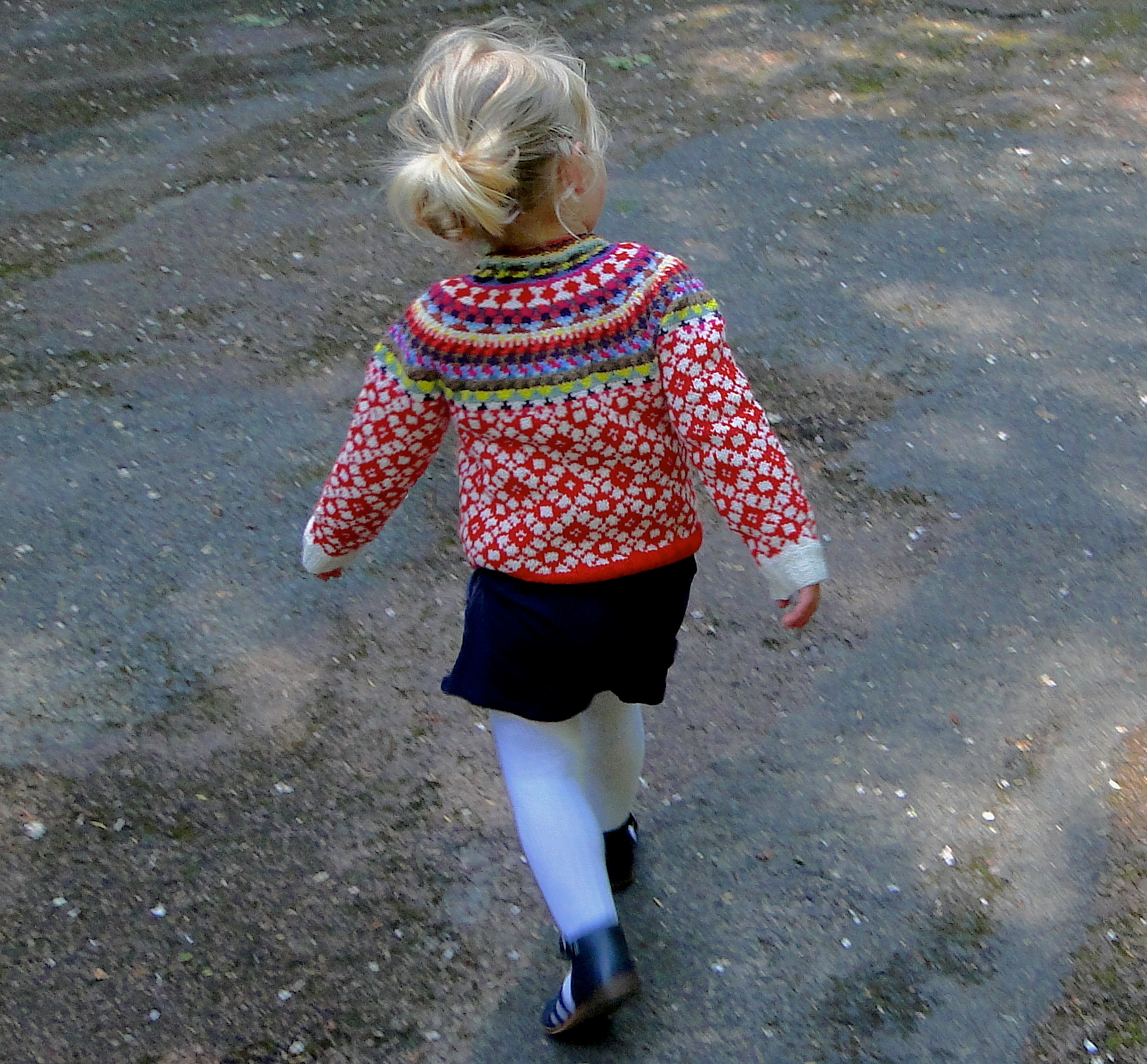 Noomi Knitting Pattern
Knit your own Noomi cardigan!
Inspired by a well-loved pair of mittens I bought in Sweden as a young knitwear student, this colourful cardigan has become one of my most popular made-to-order designs, and I have now adapted it for hand knitters, owing to high demand!
The red-and-white body, worked in a traditional Fair isle motif, is knitted in 3 pieces (body and 2 sleeves) from the bottom up. They are then joined together to work the colourful yoke in one piece, gradually decreasing to shape the shoulders. As only 2 colours are used per row, this Fair isle project is less complicated than some. The cardigan is knitted flat throughout, so you need to be comfortable working in Fair isle on the knit side and the purl side. However, it is possible to knit it in the round, using a steek. 4 out of my 8 testers made their Noomi cardigans in this way very succesfully. You can follow the instructions, just make sure you cast on 5 extra stitches for your steek, then cast on the number for your size. The sleeves can also be worked in the round.
Sewing-up is minimal, with seams on the arms only (if working flat), and then just a few stitches to be grafted under the arms. Short rows are used for shaping the back neck. I have used accents of bright yellow mimosa and neon orange to give this cardigan a truly modern look, but you can try out your own colour variations. This is a great design for using up your leftover colours from past projects.
Level of difficulty and skills required
Intermediate. Pattern requires chart-reading skills and knowledge of how to do short rows. Pattern also assumes knowledge of the Fair isle knitting technique (stranded colourwork), cable cast-on, ribbing and garter stitches, making buttonholes, and grafting.
Yarn
For the main body, look for a super fine (1) or fingering-weight yarn that knits to 30 stitches in 10cm on 2.25-2.75mm (US 1-2, UK 13-12) needles. I prefer a non-superwash wool that will bloom and blend with the other yarns around it once washed, to get a vintage-feel fabric that is soft and textural.
Meterage needed
250 (300, 300, 325, 375) m / 275 (330, 330, 356, 410) yards of MC
250 (300, 300, 325, 375) m / 275 (330, 330, 356, 410) yards of CC
approximately 50 (60, 60, 80, 100) m / 55 (66, 66, 88, 110) yards total of 15 contrasting colours for the yoke.
Materials
1 pair of size 2.25mm straight needles (US 1, UK 13)
1 pair of size 2.75mm straight needles (US 2, UK 12)
1 size 2.75mm circular needle (US 2, UK 12) (at least 80cm long, for ease of working yoke stitches)
or needles to get gauge
8 stitch holders or waste yarn
2 stitch markers
7-13 15mm buttons